The AvP Movie on DVD
by Prezes
---
| AvP Saga
Get you Alien vs Predator The Movie on DVD !!!
Set in the early 21st century on Earth, Charles Weyland, an industrialist billionaire, leads an archaeological expedition in Antartica.

Using thermal imaging satellites, Weyland believes to have discovered the ruins of an ancient pyramid temple that predates the Egyptian and Aztec pyramids buried under the ice.

Once inside, the team finds the remains of humans with holes in the rib cage and the remains of facehuggers, meaning that the possibility of the temple being uninhabited is very unlikely.

To make matters worse, five teenage Predators are coming to the temple to perform a coming-of-age ritual that involves fighting to the death with the aliens.

Soon, it becomes clear that only one species is getting out alive.
Buy It Now !!!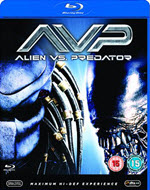 Amazon.com - WorldWide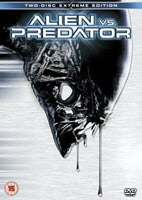 Amazon.co.uk - UK
DVD Features:
Special Feature Information:

Commentary By Paul WS Anderson And Lance Henriksen And Sanaa Latham
Commentary By the Special Effects Team
Inside Look Hide And Seek
Inside Look Elektra With Jennifer Garner
Inside Look Robots With Chris Wedge
Conception Featurette
Visual Effects Featurette
Alien Vs Predator The Comic Book
Monsters In Miniature
HBO Special
The Making Of
ADI Workshop
Miniature Whaling Station
Face Huggers And Eggs
Trouble At The Mouth Of The Tunnel
Deleted Scenes With Optional Commentary
Storyboard Gallery
Concept Art
Tom The Alien Factor
The Biggest Match Up Of All Time Clips

Aspect Ratio: 2.35 Wide Screen, 16:9 Wide Screen
Available Audio Tracks: DTS 5.1, Dolby Digital 5.1
Main Language: English
Sub Titles: French, Spanish
Hearing Impaired: English
Last updated: Tuesday, 26th May 2020 @ 8:43 BST